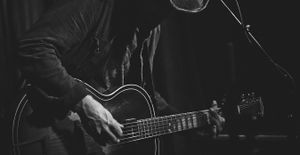 Joel's Story
Influenced by the soulful songwriting of his mentor Bill Withers, the Rock & Roll swagger of Led Zeppelin, and the honest raw style of Neil Young, Joel Eckels is an L.A. based Singer-Songwriter & Producer. He also serves as Front of House Engineer and Production Manager for Lukas Nelson & Promise of the Real.  
Great music and art are often the result of cross pollinating ideas, styles, and relationships across creative communities. Joel's 10+ years booking artists for renowned Hollywood venues Room 5 and Hotel Cafe as well as hanging around other influential music scenes such as Yin Yang Cafe in Atlanta, GA (India.Arie, Donnie) and Eddie's Attic in Decatur, GA  (John Mayer, Zac Brown) played a key role in shaping his unique sound. The connecting thread throughout Joel's career has always been musician driven scenes focused on great sound, a collaborative environment, and healthy competition.  
He is an enigmatic artist who is frequently found on the forefront of live music production and curation. While continually working on his own music, Joel is also actively promoting and cultivating the music community so that it inspires and creates a rising tide. 
Early TV shows like Solid Gold, American Bandstand, and Soul Train launched his particular interest in live performance and concerts. Although he was a big fan of early rap music and glam rock, Guns N Roses changed the game and Rock n Roll became his primary musical influence. 
Being a Navy brat, Joel moved around a lot growing up. While living in Iceland his friend Chris turned him onto the songs of Led Zeppelin. That paired with the songs of Black Sabbath, The Beatles, and Aerosmith solidified Joel's path and he dedicated himself to practicing guitar for 8 hours every day. 
During a stint in Florida State University's Classical Guitar program, he helped form the Acoustic Americana act SOUL FOOD where he shifted his focus to songwriting. Road worn from 3 years of heavy touring the band settled down in Atlanta where they broke up a year later. He then formed his own band called Paper Sun which helped further refine his sound.  
He relocated Paper Sun to L.A. in 2000 and made a splash on the local scene. In 2008, he formed the Wreckards with Tamir Barzilay (Macy Gray, Tal Wilkenfeld) on drums and Mark "Babyhead" Corben on bass.  
In 2009 Joel had the opportunity to work as Kori Wither's Musical Director which sparked a lasting friendship with her and her father Bill. This led to weekly song arranging mentorship sessions with The Wreckards where he and his band were schooled in Bill Withers' wisdom and insights. Joel was close with Bill up until the time of his passing and is dedicated to honoring his mentor through his craft.  
Currently based in the storied Laurel Canyon area of Los Angeles, Joel is channeling his life's journey into preserving the magic, nuance, and importance of the live music experience.
PHOTO by MONIKA LIGHTSTONE - LIGHTSTONE PHOTOGRAPHY